CarePortal-

ASP Financial Module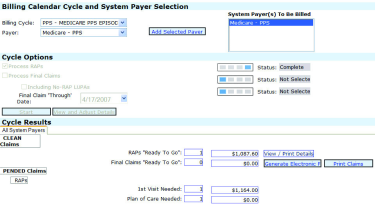 In the CarePortal-ASP Financial module you can conduct all operations related to Billing and Accounts Receivable processing.
Assessment Tracking allows you to monitor and optionally, update assessments related to Medicare PPS billing workflow.
Payer / Policy Assignment allows you to add and update the patient-specific payer entries.
Invoice Processing provides access to a flexible, powerful billing engine for electronic file creation and hard copy invoice generation.
Claim Form Template Library allows you full control to tailor billing output based on payer requirements.
Hard copy output on CMS-1500, UB-92, UB-04 and self-pay invoice claim forms.
Comprehensive reporting capability.